Employee Lifecycle
Required themes
Employee Contracts (hr_contract)

Technical name
hr_emp_lifecycle
This module is developed by Serpent Consulting Services Pvt. Ltd. Not covered under Odoo Maintenance Contract or Business Pack. Contact at contact@serpentcs.com if you are looking for support or customization.

Employee Life-cycle
Manage Your Employees
This module refers to Employee Lifecycle and its management.
Public Information of Employees

Personal Information of Employees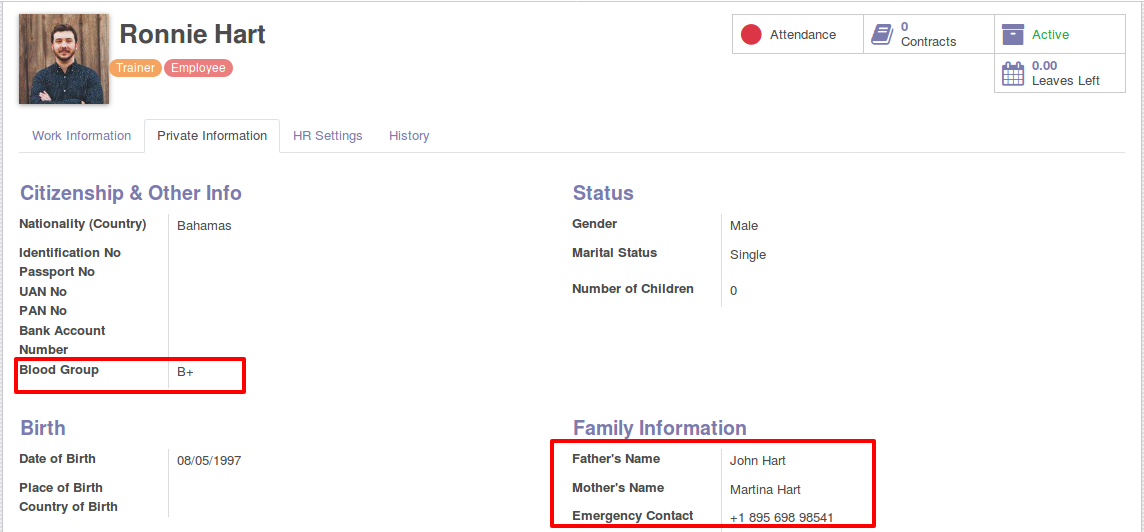 HR Settings
Create User

If create user is set true, it will automatically generate related user of an employee.

Employment Date

Employee's experience get calculated based on this field.

Join Date

Employee state changes according to their work experience

Maintains Employee History
Employees can see their history right from Joining till Termination.

Check out our various Odoo Services below
---
---
Check out our various Odoo Based Products
---
---
For any questions, support and development contact us.
---
(+91) 98793-54457, (+91) 90334-72982
+91-79-2975-0867
WhatsApp, Telegram or Call 24X7
Python dependencies
| | Package | Version | Secured | |
| --- | --- | --- | --- | --- |
| | python_dateutil | 2.8.2 | | |
This theme is not translated in any languages, it is only available in English.